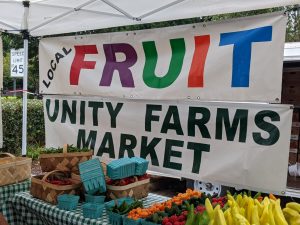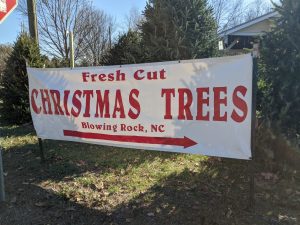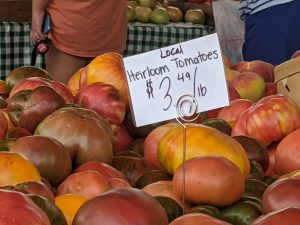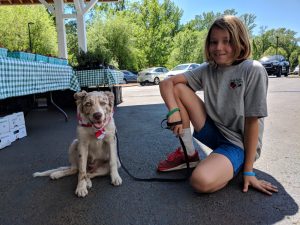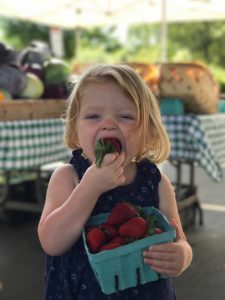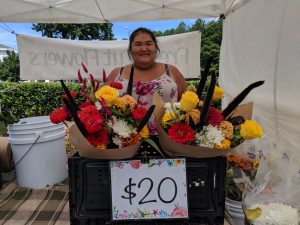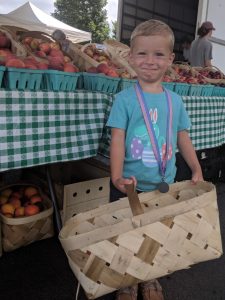 See You Next Spring! The FARMERS MARKET is open EVERY Saturday and Wednesday 9am -3pm from April thru October.   
The Village at Robinson Farm is one of Charlotte's top ten farmers' markets.  We are Grateful for the Bounty Farmers Jason & Kristin bring to our community every Wednesday and Saturday all summer long.  Come by for glorious, heavenly peaches, tomatoes, melons, squash, plants, herbs, fresh eggs, cut flowers and more!  From the first starter plants through pumpkin peak until the annual Turkey Dash, when you can run by and pick out your Christmas tree and wreath before sledding home.
The VRF Farmers' market provides a convenient place for residents to shop in an open air environment for fresh local produce, plants and homemade products.  Many area residents avoid supermarkets completely by combining the trip with a visit to The Butcher's Market specialty grocer.  Some of you have made a family tradition of picking up a pizza from Hawthorne's or sushi from Red Sake on market days!  We love and appreciate our customers!
Questions? Please contact Unity Farms directly at unityfarms@bellsouth.net
Farmers' Market Corona Virus Rules
To help us operate the market safely we ask that our customers follow the NC Department of Agriculture recommendations.  For our part we have set the cash registers six feet apart, instructed all staff to wear their masks (and keep them on!), installed hand sanitizer stations, put down markers to designate one way in and out down aisles, and also for distancing at check out.
Here is what we need Your help with:
Wear a mask to protect others and yourself (Willy style bandit bandana works).
Use hand sanitizer when you enter the market (we have some handy).
Send only one member of the household (maybe the one you most need a break from).
Leave Dogs and Children at home (it's like a mini vacation).
Do not come if you feel ill (Please take care of yourself).
Maintain a 6 ft. distance from all other humans (even with a mask on).
Don't touch product unless you plan to purchase it (tough on us produce fondlers).
Be prepared to wait if there are lines (daydreaming is good for your mental health). The noon hour tends to be the slowest time.
Please be patient with each other (for some it is their only contact with other humans, and it is a very bad idea to dial 911 to report someone isn't social distancing)
Please be patient with us (the staff serving you starts their day before sunrise and being farmers, it doesn't end till after dark).