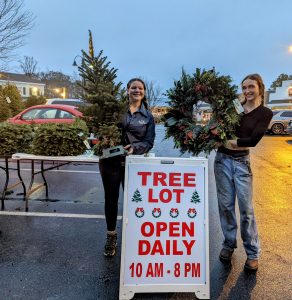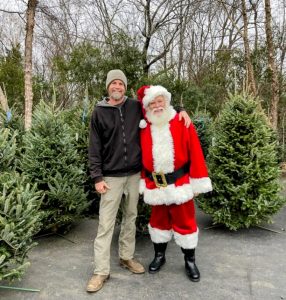 Thank You Everyone in the Community for Supporting the Farmers' Market for another wonderful season of fresh food in 2023! 
Christmas Market is open every day 10am-8pm for Festive Fun and Holiday Cheer.  You never know when Santa will show up do you?  
The Village at Robinson Farm is one of Charlotte's top ten farmers' markets.  We are Grateful for the Bounty Farmers Jason & Kristin bring to our community every Wednesday and Saturday all summer long.  Come by for glorious, heavenly peaches, tomatoes, melons, squash, plants, herbs, fresh eggs, cut flowers and more!  From the first starter plants through pumpkin peak until the annual Turkey Dash, when you can run by and pick out your Christmas tree and wreath before sledding home.
The VRF Farmers' market provides a convenient place for residents to shop in an open air environment for fresh local produce, plants and homemade products.  Many area residents avoid supermarkets completely by combining the trip with a visit to The Butcher's Market specialty grocer.  Some of you have made a family tradition of picking up a pizza from Hawthorne's or sushi from Red Sake on market days!  We love and appreciate our customers!
VENDORS PLEASE DO NOT CALL OR EMAIL: WE APPRECIATE THAT YOU WANT TO JOIN US BUT WE ARE UNABLE TO ACCOMODATE ANY ADDITIONAL MERCHANTS.  NO EXCEPTIONS.  We want to but we can't.  Rules and Regulations…
Questions? Please contact Unity Farms directly at unityfarms@bellsouth.net or best of all stop by and ask to speak with Jason or Kristin.