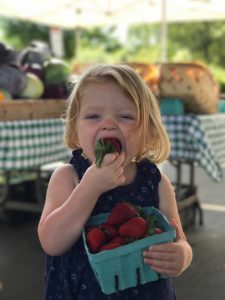 FARMERS MARKET IS CLOSED FOR JULY 4th HOLIDAY.  ENJOY!
Summer is in Full Harvest every Saturday and Wednesday 9am -3pm.  Kristin and Jason of Unity Farms are back with Crew.   Ask them for recipes, they always have the best ideas for how to prepare fresh veggies!
The Village at Robinson Farm is home to one of Charlotte's top ten farmers' markets.  Stop by and visit Farmers Jason and Kristin every Wednesday and Saturday from spring planting season through glorious, heavenly peaches, tomatoes, melons, squash, plants, herbs, fresh eggs, cut flowers and all the way through pumpkin season until the annual Turkey Dash, when you can run by and pick out your Christmas tree and wreath before sledding home to get the bird out of the oven.