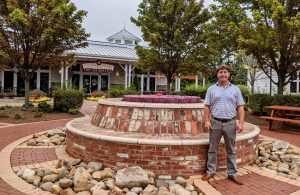 Did you notice the fountain is pink? October is Breast Cancer Awareness Month.   Lat Purser Leasing Agent Trip Harris joined us to help promote awareness.
Breast Cancer has touched touched so many of our lives.  If this reminds one person to get a mammogram (maybe you?) it is a success.
The pink water constantly flowing reflects  ever ongoing support for survivors and an honor of remembrance of all the lives lost.
Too many ♥.    Save the Tatas Ya'll.